Latest. Updates, News
& Thoughts
The 5 year (and counting) Buymie <> Haatch journey
March 24 - 2022 - Insights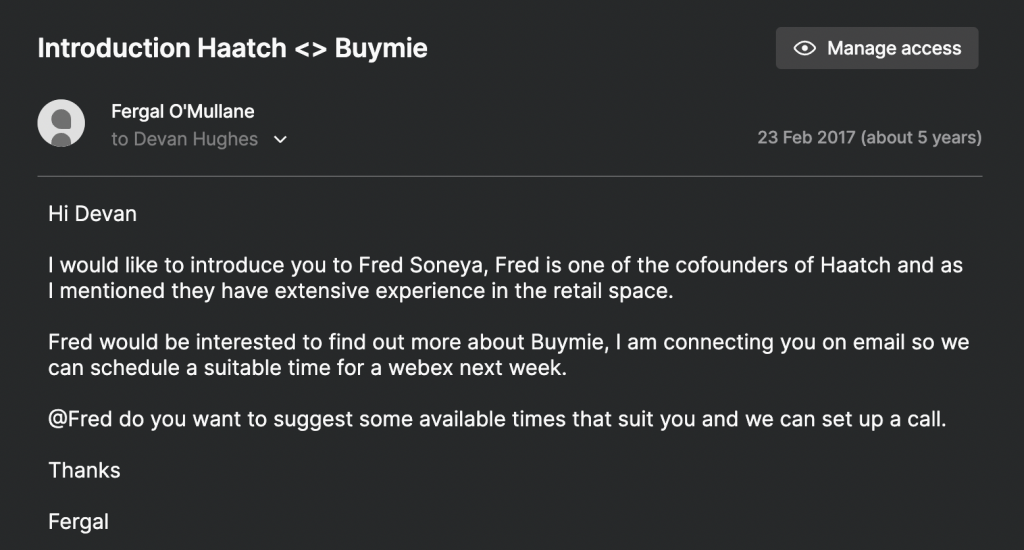 One of my favourite sayings is; "It takes years to make an overnight success" and today as Buymie announce an industry-leading first-of-its-kind partnership with Asda, I wanted to reflect on the 5 year Haatch & Buymie journey to get to this point and remind ourselves and founders that what can often appear as an "overnight success" is actually, almost always, many many many years of hard work.
Of course, we're still on the journey, but we should celebrate key milestones like this one!
I was first introduced to Devan, Co-Founder & CEO of Buymie by Fergal O'Mullane Co-Founder & CEO of Validify on the 23rd February 2017, almost 12 months, 10 Haatch meetings and 4 Haatch flights before the pre-seed round led by Haatch closed (reminder, sometimes fundraising takes more than the week or 2!).
For those who don't know, Scott & my backgrounds are in retail and after a stint at Morrisons (where Scott became Chief Architect and CEO of Morrisons online business) we had a deep understanding of unit economics of grocery online and, what may seem bizarre to many, the lack of profitability of online grocery deliveries by the major retailers, some of which have been running a service for 15+ years.
An area where I feel Haatch really do stand out as investors is real-world operational experience across the team and importantly the willingness to get into the business and experience the product for ourselves both pre-investment decision and post to continue to provide value-added advice and input. I took the below photo, where Scott, Devan and I were picking a real customer's order and delivering it to them on the 14th December 2017 on a visit to Dublin whilst we were finalising the pre-seed round which closed a month later in January 2018.
Sure, the pandemic has shifted how people work, including us, but the value in that physical experience of picking and delivering a real customer order as part of our extended diligence is something that I'll never forget and brought the opportunity ahead of us to life.
As a side note, this photo was taken in an Aldi, a retailer which we had no relationship with but the beauty of the Buymie platform meant we could just walk in, pick an order and deliver to you as a consumer without the retailer even engaging with us.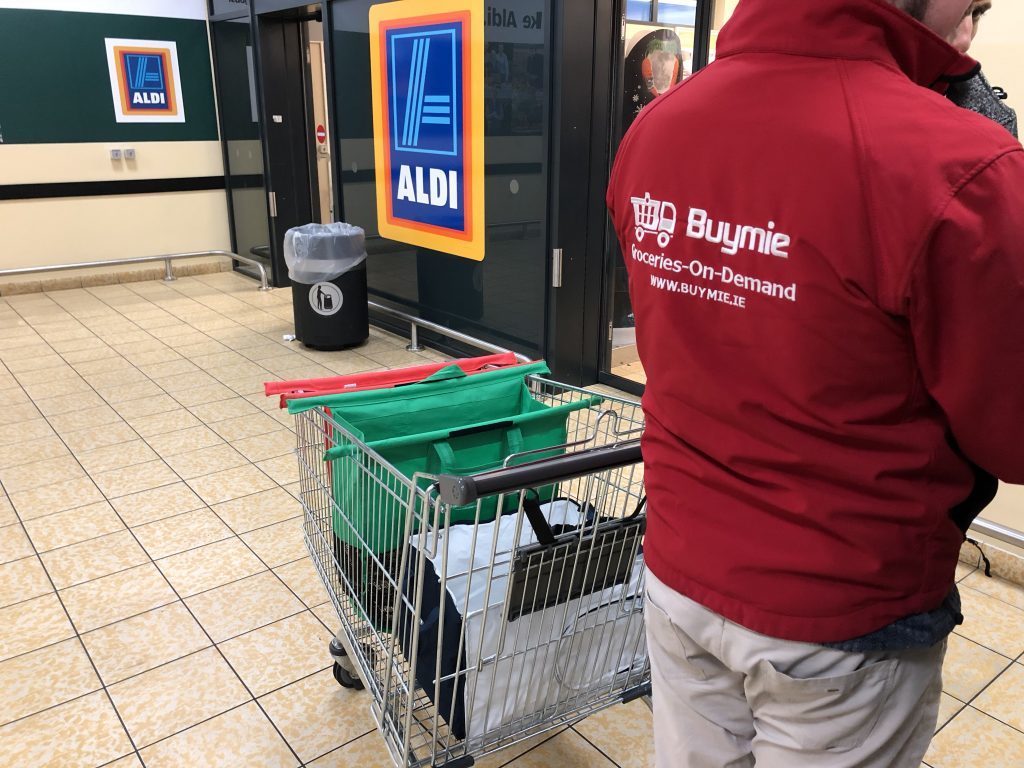 On the 27th January 2019, I flew into Dublin and took the below photo (left) after our board meeting (pictured right), we had just launched (after a joint visit to Lidl HQ in Germany) Lidl online – an offline-only grocer, into the online market, with zero infrastructure from their business – a feat which the Irish Times summed up well; "In a major strategic shift for the discounter, Lidl is launching the service in conjunction with gig economy-style delivery app Buymie".
The partnership with Lidl was also the catalyst to raise Series A for Buymie and throughout the course of 2019 and 2020 we welcomed some amazing VCs to the table including Grosvenor Food & AgTech, Act Venture Capital, Sure Valley Ventures and BVP.
One of the most exciting but difficult periods happened at the start of the pandemic. Clearly, online Grocery Delivery has never experienced such an event where a single day's demand is equivalent to an entire years demand and with it came something unexpected – the launch of what feels like hundreds of hyper convenience dark store delivery startups, raising billions in capital.
The confusion in the market with consumers and investors is still a challenge today, but one which is clearing up through consolidation, retraction in partnerships (Aldi ends Deliveroo deliveries) and shutdowns.
Buymie is not competing with retailers. Buymie is not building capex intensive infrastructure. Buymie is more than "our bet" in a competitive market. Buymie is our belief for the future of same-day large basket grocery delivery.
Fast forward to Q1 of this year, we've announced that in 2021 Buymie was achieving positive contribution per order, unheard of in the grocery space and continues to grow at scale.
Now, with today's Asda news public, we're more excited than ever for the future of Buymie and grateful to be on this multi-year journey, remember; "it takes years to make an overnight success".