Latest. Updates, News
& Thoughts
Founder Insights: Setting up an SPV for angels
April 05 - 2022 - Insights
A 101 in SPVs for Founders
Built by Founders for Founders
We're a VC fund built by exited Founders and ex-operators. We've come together to build the fund we wish we had at our earliest stage of building our own companies. We're excited to launch this Founder Insight series to scale our support to Founders and reach those outside of our network.
Setting up an SPV with Odin
Angel-led rounds or investment rounds with a high volume of angel participation are great cases for SPVs. In these instances, SPVs would be useful but many Founders know very little about them.
I sat down with Haatch portfolio company, Odin to hear more about the benefits of setting up an SPV.
What is an SPV?
A special purpose vehicle (SPV) is a legal entity for a limited purpose. Investment funds i.e. Haatch, allow underlying investors exposure to a portfolio of companies. Comparatively, SPVs are spun up when investing in specific companies. Ownership is typically distributed proportionally amongst investors i.e. a £20k ticket contributed to a total £100k investment would entitle you to 20% ownership of the SPV.
Below is a more advanced breakdown of the legal structure of how Odin's SPV works and it's interactions between investors and your company. One important point is while a subsidiary of Join Odin Limited holds investor shares in custody, the investors remain the beneficial owner.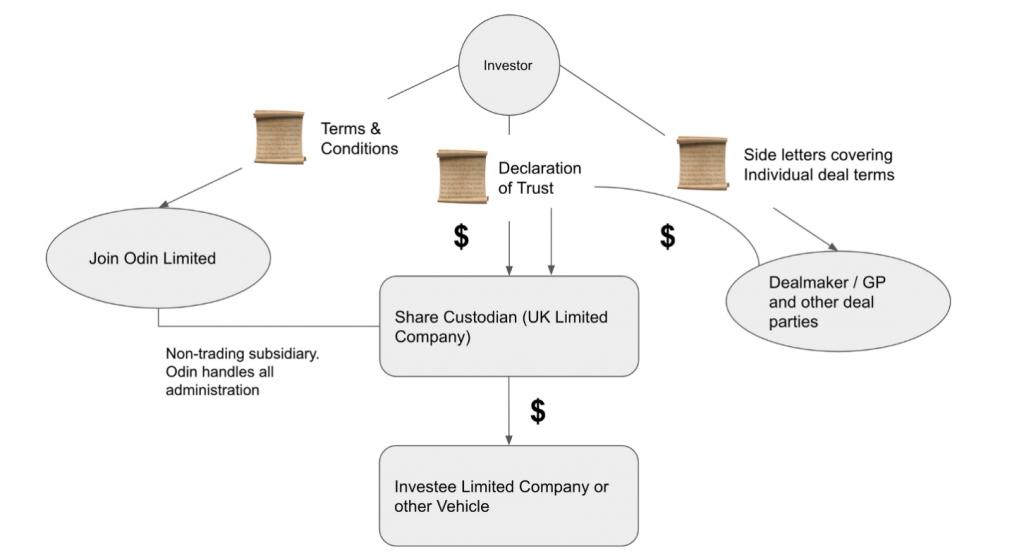 Why set up an SPV as a Founder?
Messy cap-tables are a thing. The SPV would be a single line item on the cap table. Over the years and many investment rounds, you could have various versions of shareholder agreements and a number of investors with varying rights. Tracing these rights isn't fun.
Investor consent and voting
This is the biggest driver. Sometimes you'll need investors to vote or as signatories as part of investor consent matters. From experience, if you want to move quickly it can be a pain trying to get a hold of a number of angels particularly in time sensitive situations like speedy Series A or B rounds. To get around this, you can proxy voting to one person who represents the underlying interests of the collective investors in the SPV, this is commonly the Chairman of the Board.
"Turn your community into your cap-table"
You can incentivise early customers or your community by giving them ownership through an SPV- much easier than crowdfunding. Additionally, there may be high value angels who don't have the 'dry-powder'- investor jargon for cash- to invest but can support in other ways i.e. commercial introductions, product support, investor introductions etc. and you want to incentivise them through ownership. I've seen instances where non-Partner VCs invest in rounds and offer large amounts of value in proportion to their cash invested — an SPV would be a great option for this micro-tickets. Note that Odin requires minimum £1000 tickets per investor.
When should I think about setting up an SPV?
If you have a small number of angels for example 5 or so doing tickets in the range of £20k, setting up a SPV isn't a priority. They're relatively easy to manage although, setting up an SPV can be a nice-to-have. However, when you're looking at 20+ angels participating, the idea of an SPV begins to sound interesting. Especially when you're dealing with unsophisticated investors, many of whom who aren't familiar with the corporate actions and paperwork associated with private investing.
What's the cost?
Odin are pretty competitive and charge $1,400-$1700 plus 1.9% of funds raised. There are different caps on fees based on which product you choose, varying between $2500-$6900. All prices include VAT. See more here.
Is it (S)EIS eligible?
Yes. As a Founder, it's your responsibility to issue the relevant documents to the underlying investors in order for them to claim their tax relief. It's a straightforward process, much like you'd like issue docs to angels investing under SEIS and EIS.
Can you back-date angels into SPVs?
This would be a great tool and it's in Odin's roadmap. For it to happen,I imagine you would need to go to existing investors and get them to sign the title of their holdings over to the SPV. The only challenge is that they'd be agreeing to proxy their voting rights.
I've tackled the basics here although Odin have FAQs which are bound to cover any further burning questions, here.
We're always on the lookout for Founders building exciting start-ups. We're a sector agnostic fund investing in all models with a mandate to invest in digital and software led start-ups from our SEIS fund at Pre-seed and Seed. If you're a product-led Founder interested in having exited-Founders on board, I'd love to hear from you: https://haatch.com/pitch/