Latest. Updates, News
& Thoughts
Haatch Runner Up at the Growth Investor Awards 2022 for Best SEIS Investment Manager
November 25 - 2022 - Awards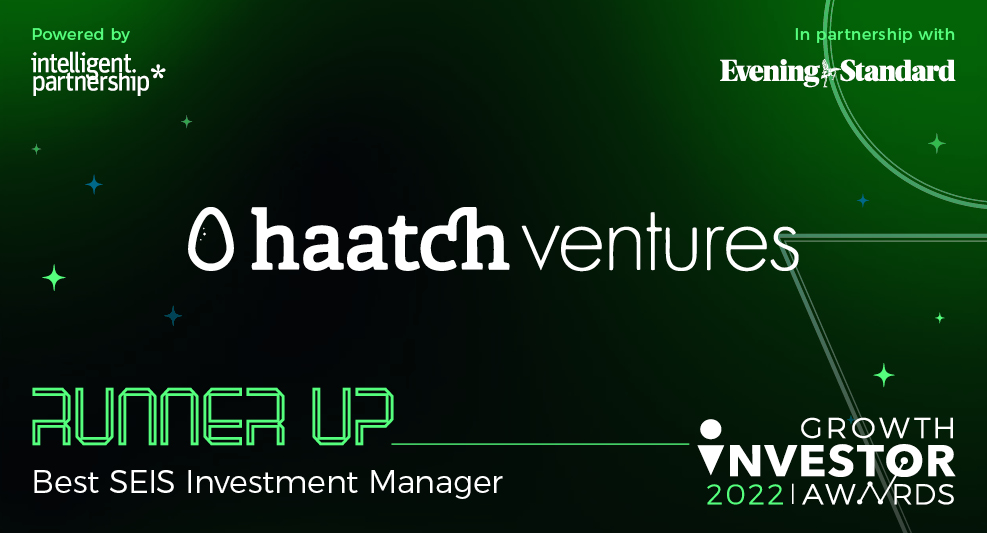 The 2022 Growth Investor Awards took place last night, with a gala dinner and awards ceremony to recognise the best of the growth investing community.
This year was the eighth Growth Investor Awards (GIA) organised by Intelligent Partnership. For almost a decade GIA has celebrated those businesses and individuals within the financial services and alternative investment industries, who support the UK's high-growth SMEs and Startups.
Haatch Ventures was recognised by judges for their outstanding contribution, as the runner up in the prestigious 'Best SEIS Investment Manager' category as well as finalist for 'Best EIS Manager – Specialist'.
Despite the challenging economic backdrop, the guidance, support, and returns Haatch has delivered for their clients, and the businesses Haatch work with, has been so impressive this year.
Fred Soneya, Co-founder and Partner of Haatch Ventures said: "We are thrilled to have received runner up in the Best SEIS category and finalist for Best EIS Manager – Specialist. Having only launched our SEIS offering to the market less than two years ago. It is testament to the hard work of our investment team, sourcing and investing in the very best businesses, as well as, the businesses themselves which have already seen impressive valuation growth.
We are excited by the future of SEIS investment and look forward to the new rules coming into place in the new tax year which will be transformational for the businesses we invest in."